It's never too late to get yourself ready for prom.  So what if you have put it off 'til now?  Everybody knows it's not over 'til it's over, right? Take a look at this coupon and tell me if you can find a better deal than this anywhere in the Phoenix area.  You can't, we promise you that.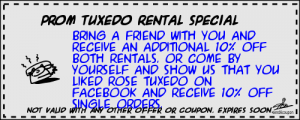 And on top of that take a look at this tremendous promotion:
PROM TUXEDO SPECIAL
Starting at $69.95 (one style and  shoes and vest not included) $99.95
Classic Collection Tuxedo Rentals, Complete-8 Styles; (plus tax & waiver)
Prices good through April 29th, 2014. "Your going to love, the way you save."
NW – 602 375-8280, Central Phx – 602 957-0089, Mesa – 480 831-5255
Arizona's Prom Store
Email me directly with any questions: service@rosetuxedoaz.com
O.K., now that we have that part settled, let me tell you what happened to a friend of mine.  He had everything ready for prom, and I do mean everything.
Flowers…check
Limo…check
Dinner reservations…check
Tux …check
When he got in the limo with the other guys to pick up their dates, one of the other guys asked him if he had his prom tickets.  He said, "What?".  The guys asked him to stop joking around and go back in the house and get his prom tickets. My friend turned pale and said, "I forgot to get tickets.  They'll let me buy them at the door, right?".  The guys all shouted in one loud voice, "NO!".  You had to get your tickets by last Thursday, they informed him.  They were so desperate at this point that one of them called their principal to ask if there was some way to get around this problem.  The principal basically said" tough bananas".
The moral of the story is get your tickets tomorrow.
Here's one more true prom story.  Another friend of mine got reservations for his posse and their dates at a great seafood restaurant.  It was very fancy and impressed the girls beyond their expectations.  My friend was being all debonair and cool, and asked his girlfriend what she would like to eat, and she said lobster.  That made him a little nervous since it was the most expensive thing on the menu, but, hey, you only live once, right?
When everyone was finished, they get back in the limo, and then were off to the dance.  My friend's date is having a ball.  He looks over at her, delighted that she is having so much fun, and, to his horror, her face had swollen to double its normal size. About this time, everyone notices what was happening, and their looks of terror make the girl go crazy.  When she looked in a mirror and saw her face, she started boo-hooing.
The limo driver takes off for the nearest emergency room, and the minute she walks in, one of the nurses says,"Have you eaten any shellfish tonight?"  Yep, she was having an allergic reaction.  The rest of the crew went on to the dance, and my friend's date had to spend the night in the hospital.  She did tell my friend to go to the dance and have fun, and he did.  By the next day she was fine.
The moral to that story is that prom night is always an adventure.
Call Rose Tuxedo Arizona and rent your tux , then you can see how your prom night turns out.