Prom Night: Should I Stay or Should I Go?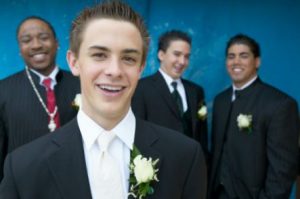 Yes, we have talked about this before, but now you have let it slip up on you and you are freaking out.  What are we talking about?  Prom, Mr. Clueless, prom is what we are talking about.   If you don't have a date by now, you need to ask someone, pronto.  But, truly, you can go to the prom with some of your posse, too.  It's O.K. to go to prom without a date.  You could even say it might be a little more fun because you can dance with all the girls and no one will be upset. Plus, you can still do all the fun things with your friends.  Remember, prom is like a rite of passage.  Everybody can remember their prom night, even when they get old.  So, don't miss it, even though you forgot to get a date.
Another cool thing about prom night is you get dressed up.  Trust me, it's fun.  If you can afford it, GO!  If money is tight, it never hurts to ask for a discount on your tuxedo rental.  You never know 'til you ask.
If you have a date, but you're worried about the financial challenge of it all, ask the flower folks for a discount; the restaurant folks for a discount; find some promotions you can use to lessen the price of the meal.  Most businesses will bend over backwards to help you.  Remember what I said about never forgetting your prom night?
I have a nephew who is a Senior and he's talking about not going because he asked a few girls and they already had dates. If that happens, check with some of your friends, guys or girls,  because they may know another person who wants to go, but , just like you, doesn't have a date.  Most importantly, never, I repeat, never miss prom because you are too shy, embarrassed, or nervous to ask a girl.  Every guy feels that way.  Even the ones who look so cool and suave.   Get over it!  The school year is almost over, and it may be a long time before you see some of your friends  Then you'll get an invitation to your ten year reunion, and see that girl that you wanted to ask to prom, but just couldn't.  And, believe me, you'll say to yourself,"What the heck was wrong with me?"
Here's another thing.  When you are deciding what to wear to prom, you don't have to be all matchy, matchy with your date.  A fun idea is to go with the theme of prom.  Like if it's tropical islands, ask someone to help you pick a white suit; or if it's movie star night, wear a fancy schmancy tuxedo .  If you don't want to be noticed too much, your best idea would be to wear a basic, black tuxedo .  It's not expensive to rent, and you'll mix in with everybody else.  Plus, the girls will love it.
If you can possibly go, then you must go.  Stand up straight, put your shoulders back, chin up, and have a great big smile on your face.  You're almost out of school.  You have terrific adventures before you.  If you can't possibly make it, that's O.K., too.  Don't worry about it.  Hey, you are about to graduate.  Have fun and be happy.  Let me tell you because I know, this is one of the best times of your life in many ways.  If you do go…HAVE FUN!
JJsHouse Prom Dresses
When Does Prom Season Start
JCPenney Prom Dresses
Macy's Prom Dresses