Are you thinking of where to rent female tuxedos in Arizona? Let's end your search today.
Rose
Tuxedo
rentals for females offer the solution to one-stop-shopping for the perfect style, color, accessories, and alterations for the female couple's wedding day. Both partners can step out of the traditional white wedding dress and step into a comfortable, unique
tuxedo
for their affair. Women have loved the look of men in tuxedos for centuries. Now they can continue to look feminine wearing the same distinctive and outstanding attire.
Rose Tuxedo, AZ Wedding Attires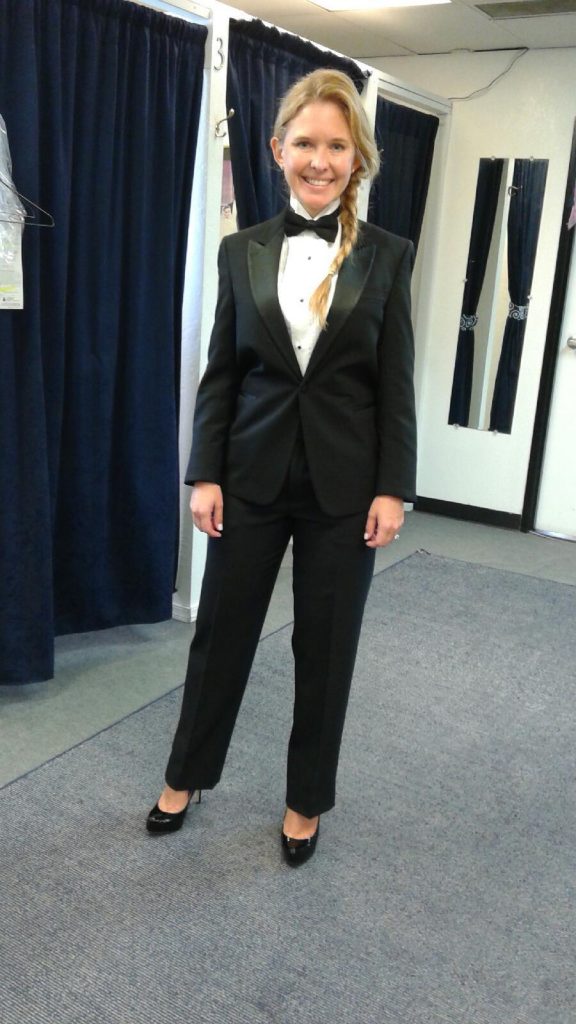 Rose Tuxedo Phoenix Weddings carry a fashionable casual look. Or dress to the nines with a polished Victorian Tails classic style. Your imagination is limitless with mixing long and short pants and skirts with short or long sleeve jackets. The boxy cut tux has plenty of company in the closet with the long peplum back-styled jackets. Also, short-waisted with single- and double-breasted styling to satisfy your distinctive tastes.
Depending on how the jacket opens and closes, you are able to wear them without a blouse and shirt and show your lovely cleavage. There are a variety of styles of ruffled and pleated shirts with cuff links that add to the suave look of wearing a tux. The curves of a woman can be clearly shown in a jacket and trousers made to fit or enhance the Big Beautiful Woman's physique. Same-sex weddings are awesome, especially in the great Phoenix weather.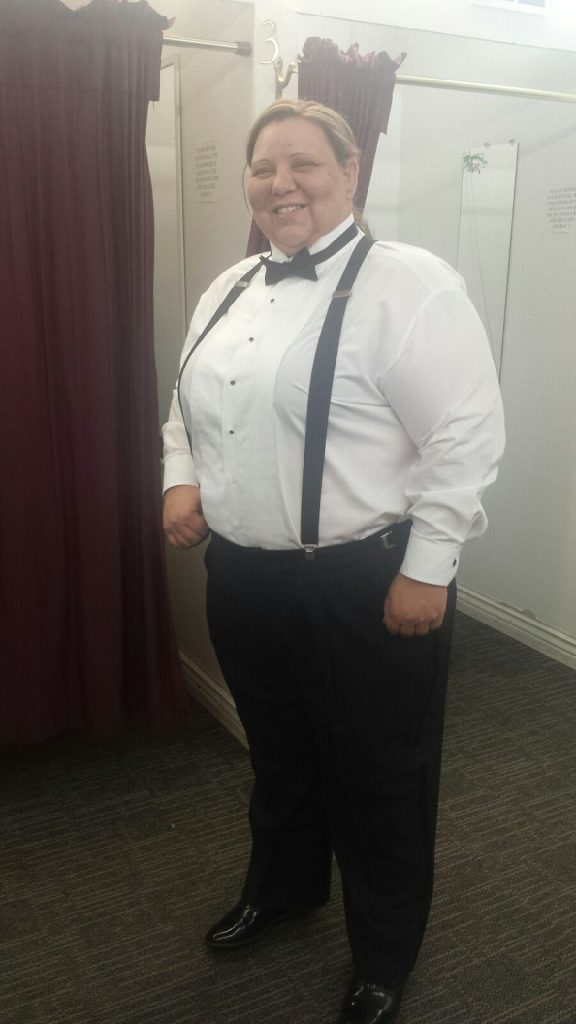 The solid black and white tuxes with and without black lapels are stunning paired with the right accessories. You can have classic and stylish suspenders, ties, bow ties, and cummerbunds to match the decor of your venue and your partners' favorite colors. The selection of soft hues in the pinks, blues, yellows, and tans gives you the advantage of creating a unique flavor for your tux. The bright and bold colors of reds, greens, and orange are fashionable and exciting to wear.
The classic colors of Champagne, Silver, and Peridot still carry the air of luxury and elegance. You and your partner are the designers of your smart and chic-looking tux.
Get Professional assistance when renting a female tuxedo
Rose Tuxedo was aware the time had arrived for women to start a new tradition in choosing their attire for their wedding day. The staff will assist you and your partner to select the tuxedo that will be comfortable and feel special in the clothes you wear on that momentous occasion.
Where to rent a female tuxedo in Arizona
Rose Tuxedo is at your service in three convenient locations in Phoenix, Mesa, and Peoria Arizona. You still have time to rent a tuxedo or suit ahead of the summer weddings you have to attend. Same-day tuxedo service is always available and no rush fee. Come into one of our 3 tux locations and see all the awesome designer tuxedos and suits we carry. Valentino Tuxedos, suit rentals, tuxedo rental Mesa Arizona and tux rental Glendale Arizona. Per the premier SEO and online marketing Agency in Phoenix, Cohn Media, people searching for female tuxedos have doubled in the past year.
Rose Tuxedo's collection of women's suits and tuxedoes continues to grow. We will do the best we can with our huge designer tuxedo selection to help you create the look you want. And at a tux rental price that everyone can afford. Have a look at our huge tuxedo selection.