Summer weddings have invaded the atmosphere. And if you're a person with a family and friends, you'll most likely attend at least one wedding each year. A third of those weddings will be held during the summer months. That means there is about a 33% chance that you'll need to be properly attired for a summer wedding. Which leads us to the question: How are we supposed to be dressed for a summer wedding?
It doesn't have to be a nightmare to get dressed for a summer wedding. On the contrary, it should be fun. When deciding what to wear for an outdoor summer wedding. You have to know where the wedding is going to be. It's not the same. If you live in the mountains or on the beach. Even both locations are fit for a summer wedding, it doesn't mean you were the same thing, just saying.
Another thing to take into account when you're looking for a tux is a comfort. That does not mean you should be jeans and a leather jacket because that the only thing you're comfortable in with that said every situation has its limits. That applies to ladies as well don't think you can show up in the sexiest heel. A lady tux can be more appropriate. Wherever your summer wedding is held, consult a professional tux rental and ask for the proper dress code for the environment. It's ok to wear something different with moderation keep that mind before jumping into something you can regret.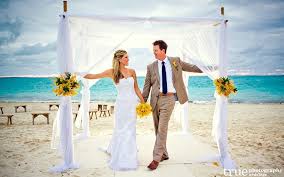 Summer wedding format
All of those who can't stand formalities. Convince the bride preferably to change the time of her summer wedding for day time. Why do you ask? Daytime summer wedding tends to be less formal than night time