Looking great for your wedding day means having a suit that fits you perfectly. Everyone knows that the bride will have multiple fittings for her dress, but do you know how many Tux fittings the groom will need?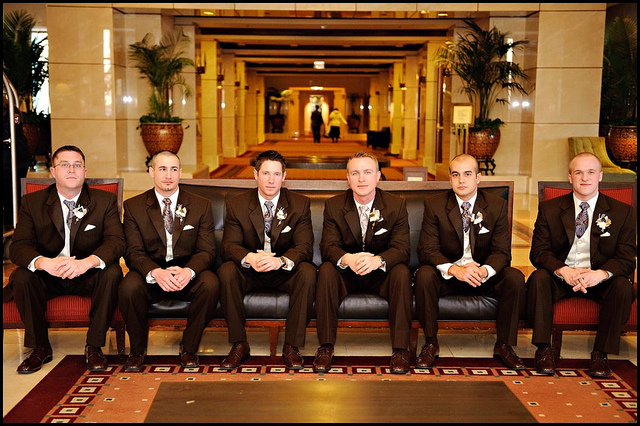 Tux Fittings
A well-fitted suit can make a big difference. Going in for a fitting months ahead of your wedding can give you the right size for you that day, but what if you lose weight or gain weight before the big day arrives? Without another fitting closer to your wedding day, you might have an ill-fitting suit, which can leave you uncomfortable.
The day when a man and woman choose to stay together forever in love. The man always appears, looking his best in a tuxedo .
Why should it be a tuxedo ? Women have a lot of options of dresses for these events but men have just one – a tuxedo. There's certainly something about a tuxedo. Women are attracted to men in tuxedos. Tuxedos do a lot for a man including bringing out his manliness. The shoulders of the tuxedo are designed to make his shoulders look broader and thicker. This makes the man look strong.
Some suits have shiny lapels, to bring attention to his strong chest and warm heart. Most women can't resist swooning over men in tuxedos (James Bond is an evidence). For a man to capture the attention of the women folk and boost his appeal, he should wear a fitting tuxedo.
Get the right fit
With numerous body types out there, it's a really difficult task to find the right one for you. That's why if you live in or around Phoenix, you're in luck. Rose tuxedos has been in the business of suiting the valley for over 25 years. As a result, we own the largest collection of tuxedos in Phoenix.
Rose tuxedos don't just rent you any tuxedo. We have all the accessories that go with it. There are various sizes for everyone. Even the little ring bearer has a tuxedo waiting for him in Rose tuxedos. All you have to do is place a call and you will experience the best service ever.
Rose tuxedos is 100% dedicated to making you look your best for your important day. Many people do not know how practical it is to rent a tuxedo instead of purchasing it. Events that demand the use of tuxedos come once in a while. Buying and owning one particular tuxedo is uneconomical. It's best to rent a tuxedo so that for every event you have something new to wear. You appear fresh each time, giving your guests or admirers a new dapper you. They can only see you getting better and better in each new tuxedo. And behind all this magic is Rose tuxedo. 
Many tux rental companies in Arizona will only allow for one fitting. The result is that you'll leave tuxedo shopping until the last minute, which can make you and your bride-to-be more stressed. At Rose Tuxedos we have all our stock in-state, meaning that if you change size, we can accommodate your new needs with same day service.
To discuss scheduling multiple fittings, or to get a same-day tuxedo rental, get in touch today or come by one of our three easy to find Arizona locations! Call us today to have your tuxedo today (602)957-0089.