We are halfway through April which can only mean one thing and that is that you are getting closer and closer to your prom night. Is the limo rented? Is the tuxedo ready?We are sure that you already know just how important this celebration is and we are sure that you are doing your best to make it remarkable somehow. In our experience, there are two types of high school students when it comes to prom.
First of all, there are the guys who have been waiting for this moment for a very long time. These are usually the guys in long term relationships or the ones who are hoping to take their crush to prom. When it comes to these guys, they have known what tuxedo they will be wearing for months. Much like the early bird, they took their time in choosing the perfect match. They probably had the tuxedo on hold even before the winter holidays. This type off high school senior is surely not going to leave anything else to chance. His and his date's night is perfectly planned out minute by minute. This is actually great because it shows how much they care. They care to look good for their date and they rented an amazing tuxedo, they care to have a great time together and so on.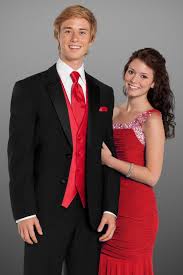 Now, the second type of high school senior is the one who decides if he wants a date to prom on the week of the prom or, even worse, on the day of the prom. They are a bit nonconformist and they have no problem in being spontaneous and in seeing where the night takes them. If they have just now decided on a date or if they want a date or not, you can rest assured that they haven't even thought about renting a tuxedo ahead of time or about renting a limo or making dinner reservations. Although it may seem like they are a bit careless, these are the guys who have the most fun. They rarely abide by the rules and they always make it their goal to have an amazing time, no matter what.
Now, regardless if you are still undecided if you want a date for prom or if you have planned this night for months, the most important thing that you need to keep in mind is the fact that this is a very important celebration and you should definitely enjoy it. You have your fancy looking tuxedo, your friends and classmates and that is pretty much all you need. Date or no date, you and your friends are the ones who truly matter. So have fun, take a lot of pictures and don't forget to dance until your feet hurt!