When a girl turns 15 the world stops.  All eyes are on her and she is the princess for a day.  Also called fiesta de quince años, fiesta de quinceañera, quince años or simply quince, this is the celebration of a girl's fifteenth birthday in parts of Arizona communities of people from Latin America. This birthday is celebrated differently from any other birthday, as it marks the transition from childhood to young womanhood.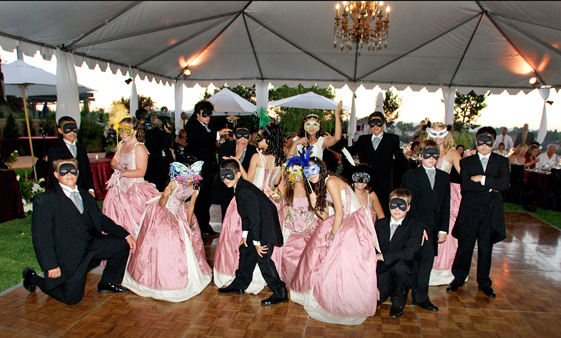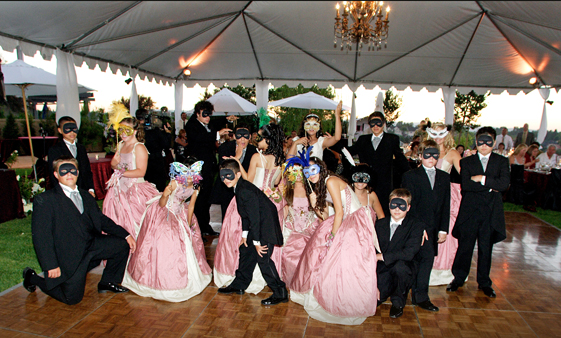 To a Quinceañera you don't dress the same as you would to any other birthday party.  Girls typically wear colored dresses and the guy's sport tuxedos with matching vest and tie.  Of course the father of the birthday girl usually wears a tuxedo and vest that matches the young woman's Mothers gown. Pedrino's, or an influential uncle, Grandfather or other man in the young woman's life, typically dress in tuxedos as well.
Because so many men wear tuxedos to a Quinceañera and come from neighboring Phoenix cities like Glendale, Peoria, Avondale, Surprise and Tolleson, it's easier to use a Formalwear Specialist with multiple locations to serve all the men and boys formal needs.  (Btw, if you rent 15 or more tuxedos from us we will provide 3 rentals free.)
Need to schedule a consultation?  Stop by or call us and we'll be sure to match you with the best tuxedo for an upcoming Quinceañera celebration.  Check out Arizona's largest selection of Quinceañera Tuxedos and suits for rent. We specialize in only Tuxedo's and Suits for all rental occasions, we carry every size tuxedo and suit for men and boys and you will never leave our shops unless you look and feel great. Our Tuxedo wear house is location in Central Phoenix and our inventory is huge. We buy the newest styles and color tuxedos and suits every year and we sell our used tuxedos to waiters and limo drivers and musicians and Dj's and more.
Quinceañera Dresses 2015
Quinceañera Gift Ideas
Quinceañera Traditions
Quinceañera Tuxedo Rentals
Quinceañera Tuxedos for Chambelanes
Quinceañera Tuxedo Lafayette La