[fusion_builder_container hundred_percent="no" equal_height_columns="no" menu_anchor="" hide_on_mobile="small-visibility,medium-visibility,large-visibility" class="" id="" background_color="" background_image="" background_position="center center" background_repeat="no-repeat" fade="no" background_parallax="none" parallax_speed="0.3″ video_mp4="" video_webm="" video_ogv="" video_url="" video_aspect_ratio="16:9″ video_loop="yes" video_mute="yes" overlay_color="" video_preview_image="" border_size="" border_color="" border_style="solid" padding_top="" padding_bottom="" padding_left="" padding_right=""][fusion_builder_row][fusion_builder_column type="1_1″ layout="1_1″ background_position="left top" background_color="" border_size="" border_color="" border_style="solid" border_position="all" spacing="yes" background_image="" background_repeat="no-repeat" padding_top="" padding_right="" padding_bottom="" padding_left="" margin_top="0px" margin_bottom="0px" class="" id="" animation_type="" animation_speed="0.3″ animation_direction="left" hide_on_mobile="small-visibility,medium-visibility,large-visibility" center_content="no" last="no" min_height="" hover_type="none" link=""][fusion_text]
Shoes Matching Your Tuxedo
In the past articles, we've already talked about choosing the right tuxedo rental and accessorizing your tuxedo for your wedding. Now, it's time to press on another topic that highlights the groom's dressing. For anyone who has ever wondered how to pick the right shoes for a tuxedo , here are some tips to consider: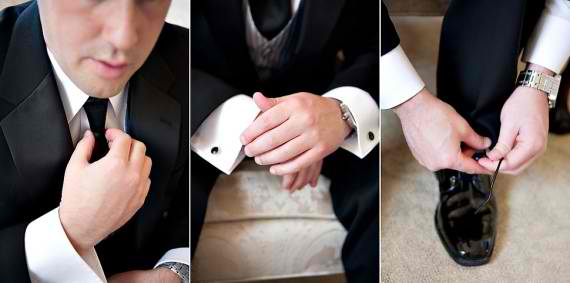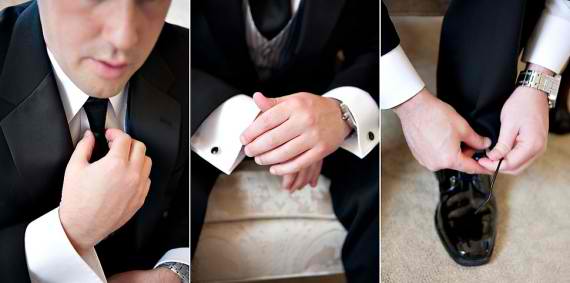 When in doubt, go with black
Black is the safest, simplest, and classiest option for shoes. You can never go wrong with opting for a pair of black shoes to wear with your tuxedo . Unless you will be wearing a theatrical tuxedo, go with black shoes. They are also very easy to take care of.
Consider the shape of the toe
When picking out a pair of shoes to wear with your tuxedo, remember to consider the shape of the toe. For a traditional look, go for shoes that have rounded toes. Shoes that have square toes are another option, especially for contemporary dressing. At all costs, avoid shoes with pointed toes.
Choose the material
As for the material of the shoes you will be wearing, go for the ones made from patent leather since its shiny surface provides an elegant touch to the appearance of the shoe. At the same time, the shiny surface is what separates it from the business dress shoes.
Pick a design
There are two acceptable designs that you can wear with your tuxedo: slip-on and lace up. The good thing about slip-on designs is that they work well with those who have narrow feet. Lace up designs, on the other hand, is a better choice for those with wide feet. Tux time is a great time to wear patent leather shoes.
Heel height matters
Lastly, when you're picking out shoes for your wedding, make sure you consider the heel. In most situations, shoes with a standard heel are the best option. However, for men who are shorter than women, the wedding day is a great opportunity to appear taller. With higher-heel shoes, it is best to test them out first before buying so that stability can be determined.
If you already have a tuxedo to wear for your wedding, all you need to do is to pick out the right shoes. On the other hand, if this is something you still lack, make sure you check out our available tuxedo rentals.
[/fusion_text][/fusion_builder_column][/fusion_builder_row][/fusion_builder_container]