Are you a man who finds tidying up in a formal wear difficult? You've Come to the right place. We have been in the business of dressing men long enough to compile these hacks to help you clean up nice and good.
Dress to be addressed. We've heard that a lot. Although a cliché, it carries a lot of truth in it. When you appear in a formal wear to occasions, events, and meetings, you and your opinions are taken seriously. Without doing anything but simply appearing in a suit or tux that clings to your frame comfortably, you command respect from people. Knowledge of the different types of fit.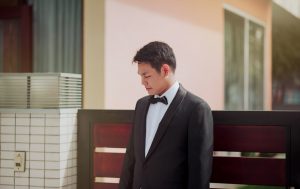 When going out in a suit or tux, you need to do it the proper way. You don't just put on anything simply because of its called tux. It has to be the appropriate fit for you that's why knowledge of the different typed of fit is important. There are
The Slim Fit
Slim fit is tailored to hug onto your frame and the contours of your body comfortably. They usually come together with flat front pants. The trousers are designed to have a very little break. The recognizable features of the slim fit are the higher armhole, narrow sleeves, tapered body, slim lapel and a coat with a shorter length.
The Classic Fit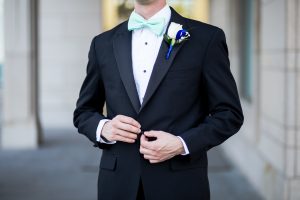 While fitting most all body sizes, the classic fit is designed to cover a broad range of styles. Owing to how they are tailored, they provide maximum comfort. The classic fit is tailored to have a fuller chest, a standardly sized lapel, coat of standard length and higher waist.
The Modern Fit
It's delicately tapered so clings to your frame and most body types in a comfortable manner. Like other fits, they're painted with flat front pants. The easily identifiable features of a modern fit are its delicately tapered body, narrow lapel, narrow all through three lengths of the body, and a coat with a slightly shorter length.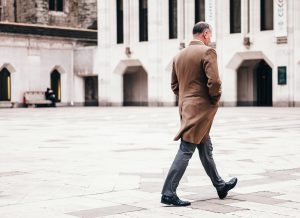 You've got the basic idea of the different types of fit? Sweet, we can move on.
Complement Your Outfit With a Vest
Don't underestimate the power vests wield. They may appear small and inconsequential, but they are powerful with the touch of class and excellence they give to your outfit. But we advise you do it the right way, going for a vest that doesn't match your suit in color, pattern, and style will throw your whole outfit in disarray.
Go with Your Suspenders
If you want to pull off a unique style, suspenders are one of your best options. give that elite look that only they can provide. While replacing belts, they show off your unique personality. Still managing to do that while giving comfort.
Want to Go Without a Tie?
You can still pull off an elegant look without a tie, just make sure you wear a shirt with a smaller collar. Big collar shirts are in danger of going over your lapel and making you look tacky.
When Sitting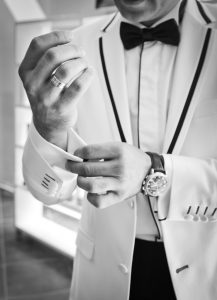 Unbutton your suit whenever you sit to free up space for you to use your hands. Besides, it renovation the strain from your buttons which could damage them. When unbuttoning your suit or tux , it's stylish if you do it one-handed with your left hand. Picture that. Doesn't it look impressive?
Dressing up in a formal wear isn't rocket science. It's pretty easy for you to keep these simple hacks in mind. You won't have to spend hours figuring out what and how to wear.