Since the warm season has long started, we decided to let you in on a few summer trends for this year. No matter what people say and thing, guys also want to be fashionable and to look good, not to mention the fact that they always want to pleasantly impress the people around them. This is exactly why you should pay attention and start taking notes, because we are about to share some male fashion secrets with you.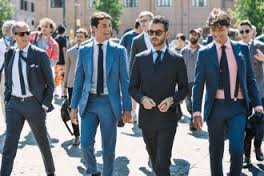 It may be the warm season, but this does not mean that you should start wearing shorts and flip flops. On the contrary, it turns out that stylish suits are very in this season. This does not only go for special occasions such as weddings, bachelor parties, quinceaneras or corporate events. Stylish suits can be worn every day this summer. You will not only look amazing, but you will also feel absolutely fabulous. All guys look great in a properly fitted suit. It is time for you to join the big boys club and get your own stylish suits that you could wear this summer.
If you have no idea where to get a suit or, even worse, if you don't even know your measurements, then you should definitely come by one of our shops. Rose Tuxedo has years of experience in this business and a professional tailor on site that could certainly help you pick out the most appropriate stylish suit for your body type. More than that, our professional tailor could also make minor adjustments to the suit, so that it is a perfect match. In any case,, we guarantee that at Rose Tuxedo you will be able to find the widest range of suits and sizes.
Be generous with colors
One thing that we have noticed about this year's trends is the fact that, as far as men's fashion goes, colors are incredibly present. It seems that nothing is out of bounds and that even bright colors are in. However, some of the most popular shades are salmon, navy blue, green and lime. One thing you should keep in mind is the way you mix and match these colors, because you definitely would not want to end up looking like a Christmas tree. Well, if you need some help with choosing the right colors for your stylish suits, we will be more than glad to give you a few pointers.
Accessorize
Something that is often ignored in men's wardrobes is the accessories. They are very important if you want to have a smart look regardless of the occasion. So be sure to have the appropriate type of belt, watch and even buttons and you will surely make a great impression no matter where you go.