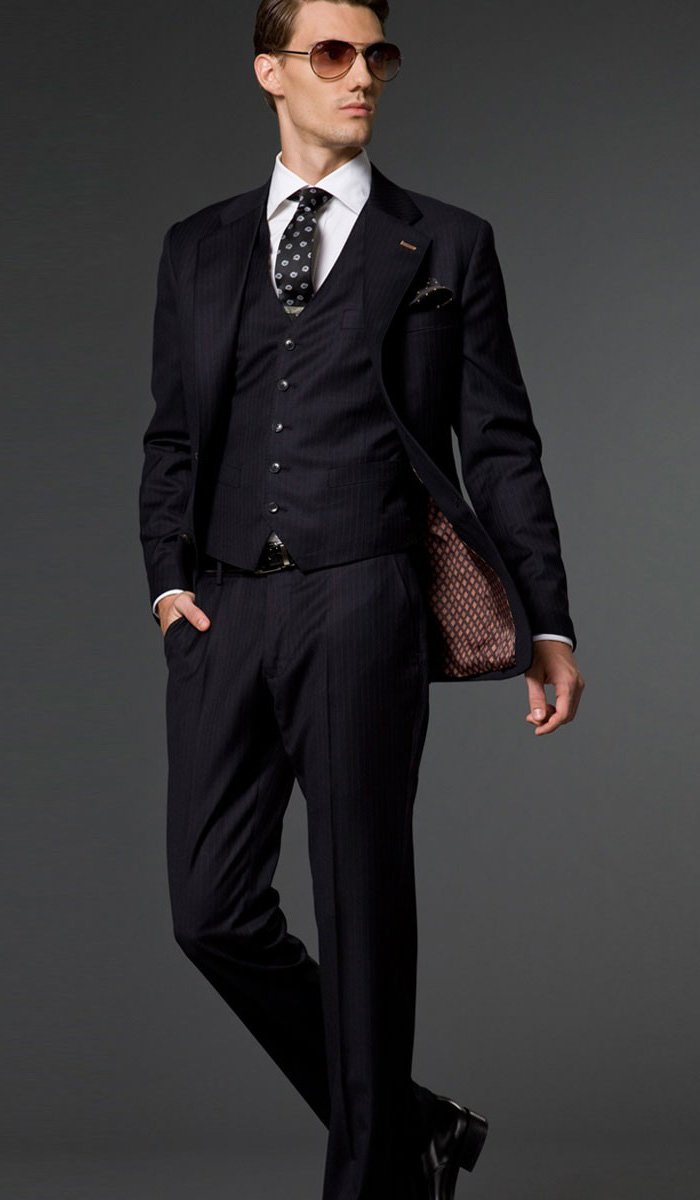 After a little research, anyone can figure out when it's appropriate or expected to wear either a suit or a tuxedo. Many, however, do not fully comprehend the usefulness of a complete tuxedo or suit within a wardrobe. For example, one three-piece suit in a basic color (Black or charcoal gray for example) can be used in at least six different ways, such as:
All 3 pieces: This is a strong, bold look, especially when paired with attention grabbing colors like reds or burgundy. The tie and pocket square should match, or at the very least be of similar shades. Black leather belt and shoes in great condition, accompanied by a black leather briefcase or a style of bag make great additions. Maybe even add a watch with black leather, or metallic for an extra-noticeable statement.
Two (main) pieces: Wearing the jacket and pants (accompanied with a long tie and collared shirt) is timeless. It makes a less bold statement than the three-piece variety, but it still commands respect and attention when all pieces fit properly with matching accessories. Accessories can be colorful, while others prefer a black-and-white look head-to-toe.
Vest and pants: This look is classy, stylish, and vastly under-used. The vest or waistcoat should fit closer to the body than the jacket, so it may need extra tailoring or close attention to the adjuster in the back(especially when worn sans jacket). This look has a tendency to make a man look slimmer. One possible downside to this look is the attention which must be paid to the shirt. Color, cut, and condition must all be noted, and all accessories must compliment the shirt and vest. When in doubt, white shirt with black suit-pieces never fails. This look can be completed with bow ties (or long ties, but who doesn't love a good bow tie?), a pocket watch chain, patterned socks, and leather shoes.
Waistcoat without suit jacket or pants: This is one huge reason men should invest in a good three-piece suit. Throw on a dark wash jean, loafers or semi-dressy shoes, a semi-casual collared long sleeve shirt, and a tie can make any man look fantastic. This is great for those nights out on the town without looking over-dressed but reminding everyone how amazingly stylish you are. The glory of this idea is that comfortable jeans can be paired with any color or pattern of shirt (or tie), because a black vest will go with nearly anything. Dress it up, or dress it down, but always leave the bottom button unfastened.
Jacket only, leave the slacks and vest behind: This look can be done in so many ways. A great fitting suit jacket can class up any outfit, even jeans and a t-shirt. Test out different materials for pants and add a nice pocket square or handkerchief for a dash of color and fun. No need for a tie and fancy watches or clips, leave it a little on the casual side and impress everyone around you.
Pants only: A good pair of slacks can be worn with nearly anything. Take that jacket off and put a sweater or a sweater vest over that boring collared shirt and enjoy casual Friday at the office! Throw in your brown loafers if you feel a little crazy—just be sure to pair something else with brown tones in to bring the entire outfit together. Have fun with colors and patterns and materials. Who said wearing slacks is boring?
There's no reason not to own a three-piece suit. If you don't believe us, come by and rent one for a few days and play around with the other elements in your closet. Once you realize how amazing you look and how great everyone else thinks you look, you'll come back begging for us to help you pick out at least one three-piece suit of your own!