Alright, men! You still have nearly 3 weeks before Valentine's Day! If you have a special someone who deserves to be swept off their feet, you're in the right place for advice. Today, we'll talk about how to make your lady swoon over you this February 14th.
Gifts:
Avoid gifts like appliances or anything "practical." No vacuums, no blenders, no knife sets. Also avoid lingerie. While lingerie is heavily advertised this time of year, leave that to her. If she wants to wear something special for you, she'll get it herself. Sizing is important and honestly, most men will mess it up. If you want to get her something she can wear, focus on something cute and comfortable instead of something sexy. Go for a silky robe or a pair of cute slippers. Jewelry and chocolate usually go over well, too, but don't feel as if that is your only option. You don't have to break the bank to make her feel special.
If she has to work part of the day, send a little gift to her place of work. Flowers, chocolate, a teddy bear, or a little note hinting at your plans for the evening will make her the talk of the office.
Flowers:
There is no rule that says you must give a woman a dozen red roses. You can stick to one rose and it just might mean more to her. Mix it up and get her favorite flowers instead of the cliché roses. Or, avoid flowers all together—flowers just die and that can be depressing a week later.
Cards and Letters:
Places like Hallmark have dozens (if not hundreds) of Valentine's Day cards. Some of these are really cute, romantic, or funny but it would mean so much more if you make your special someone (even friends or family) a card by hand.
You can also write your lover a love letter (which can be in the aforementioned card) or a short love note. This doesn't need to be three pages of mush, but remind her why you love her, the little things that make you smile, and tell her she's beautiful. Be truthful and you can add a little humor in it, but keep it sincere and honest.
Activities:
First and foremost, do something she wants to do. Better yet, find something you both are interested in doing. This day doesn't have to be 100% about her. Go see a movie, rewatch your favorite movie as a couple, or go back to the restaurant where you had a special date. If there's a museum or an event she's interested in it could be nice to show an interest in what she wants to do (and it'll score you brownie points).
If you don't want to go out of the house you could always cook for her. Even if you're not good at cooking she'll appreciate the effort.
Turn off phones and computers. Checking your phone in the bathroom or periodically to check in with friends or family (especially if you have big plans they're involved with) isn't a big deal, but put away the phone at dinner or while watching a movie at home. There's no need to check Facebook or message your bros when you're having a special night with your lady.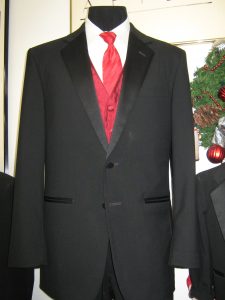 Clothing:
When in doubt, put on a nice suit. At Rose Tuxedo we can help you pick out a suit rental (or purchase) that will make you look like the man of her dreams. Choose from a variety of colors and styles. Choose a red tie, pocket square, or shirt for a pop of color and a nice festive feel.
Never underestimate the power of a good suit.