Hispanic Wedding
The tradition Hispanic wedding ceremony involves a full Catholic Mass. One of the most special parts of an Hispanic marriage are the rolse of the madrina and the padrino. The Madrina and the padrino si usually a couple who has been important in the life of the bride and the groom, and their role is much more than merely ceremonial. They traditionally help to pay for the wedding, as well as offering their spiritual and emotional guidance. The padrino is often the man who walks the bride down the aisle, and the madrino will provide the cushioned kneeler that the bride and gr0om use during the Nuptial Mass.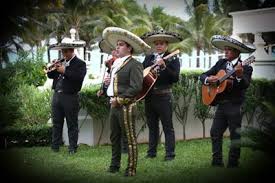 Custom is very important in Latin weddings and it is considered very special for the bride to wear an heirloom bridal gown, veil, or jewelry from her mother or grandmother. The mantilla is the traditional Spanish lace veil that is passed down from one generation to the next and is popular for the brides in Spanish speaking countries in many parts of the world. The gorgeous lace veil is the one piece of Spanish traditional garb that almost every choices for the wedding dress are slender styles or gowns with flamenco-inspired ruffled hems.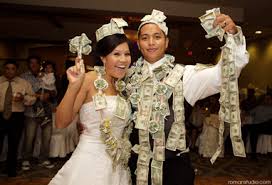 There are some lovely rituals that are a part of most Hispanic weddings. One is the offering of Las Arras which is a set of thirteen coins that the groom gives to his bride during the ceremony. The exchange of the coins represents the groom's promise to provide for his family and the bride's trust in his ability to do so. The coins number thirteen because it symbolizes Christ and the twelve Apostles.