Christmas Weddings ideas

Christmas Wedding ideas are filled with traditions from cultural roots, personal preferences and current trends celebrating a special moment as two lives joint together to create their own legacy. The festivity starts with planning and incorporating your dreams into a reality of wonderment for one special day. Every detail has a significant meaning from the bride's gown to the groom's tuxedo , the choice of colors, and flower arrangements. Rose Tuxedo has your wedding suits, and tuxedos with on-site tailoring services to accommodate out of state guests for alterations at the best prices.
Winter seasons introduce vibrant colors proposing floral arrangements and bridal bouquets with rich reds and corrals adding a more rustic or local inspiration. Today, couples are creating a more personal and intimate atmosphere for the ceremony, choosing more casual weddings, embracing traditional themes. As a result, the wedding styles have become cozier with simple blends of colors, and illuminating decor with twinkling white lights or candles setting the mood of this magical moment.
Themes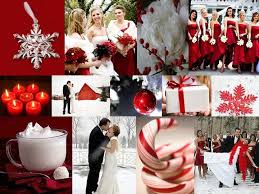 Christmas Weddings remind us of new beginnings with the upcoming holidays. It is a time where couples begin their own journeys creating memories with new family traditions and century old customs handed down from family to family. The invitations set the tone of the wedding reflecting the couple's love and commitment mirrored in the choice of venue, decorative styling, table tops and wedding favors for guests to enjoy. The invitations announce the ceremonial theme with formal script designs of gold and silver or inspired watercolors creating a unique invitation.
Bride and Groom
Christmas Weddings trends and styles for wedding gowns and groom suits range from traditional to casual contemporary with bolder looks. Brides are choosing defined silhouettes with off the shoulder or see through tops of chiffon or lace complementing embroidered and sparkling appliques with matching veil and stunning jewelry accessories. Traditional styled suits for the groom are updated to the current trends, leaning towards well-designed two and three pieced suits. The fit complements a traditional tie or an adorable bow tie with elegant cuff links peeking out from the jacket sleeves. A splash of color with a theme colored boutonniere finishes the look. Rose Tuxedo specializes in same sex weddings and have lady tux 's. www.rosetuxedoaz.com
Photography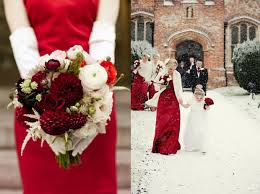 As the saying goes "a picture is worth a thousand words", your wedding photographs are everything you imaged, capturing memorable moments, incredible emotions and astounding scenery from beginning to end. Today, photographers are taking charismatic snapshots and captivating videos of your special day.