Blue Tuxedos, the New Black!!!
For the Groom Tuxedo or not? The Oscars of 2017 were invaded by the Blue Tuxedo. When styled properly and the right color blue, the Blue tuxedo is a head turner. Lets list a few of the stars that wore blue, Damien Chazelle, The Rock and Ben Affleck are just a few. So your in Arizona and don't know where to go for your Blue Tuxedo or Suit? I know where to go, it's Rose Tuxedo, they rent Tuxedo 's and suits in every size, shape and color. With many different shades of Blue they have the right Tuxedo or Suit for you. Most are in stock right now and can be tailored to fit right away. With 3 convenient locations in Arizona there is a Rose Tuxedo Showroom near you. But have we answered the question are Blue Tuxedos the right choice for the Groom's Tuxedo?
You will want to wear your blue properly, even Black Tie Events are accepting of properly worn and colored Blue Tuxedo's. The best looking are the Royal Blue with Black Lapels and Black Tie and the Midnight Blue is absolutely a crowd please especially with black trim. Navy Blue looks really sharp and will make you look good at your event whether it's for a Groom Tuxedo or Black Tie events.
Blue Suits are sharp for formal outings and a Blue Dinner Jacket can be the talk of the event if done right. Make sure to ask your professional at Rose Tuxedo and they have a tailor standing by to get you the best fit possible for your event or wedding.
Now why are Blue Tuxedos and Blue Suits making the statement now? First of all anyone looking at fashion history will see that Blue made an appearance in the 1930's and research shows that most of the men then were wearing dark blue tuxedos and suits, they were considered very classy back then. Then came the loud Blue of the 1970's with the big frilly shirts and huge lapels. That put a damper on blue for a short time.
Well, then men that wanted to make a statement moved back to blue, away from the traditional Black or White Tuxedos and starting turning heads again with how sharp they looked, same with Blue Suits. The key is how you wear and accessorize to how good you will look.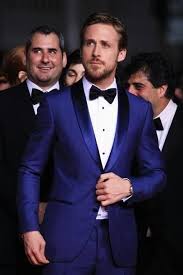 Make sure you go to Rose Tuxedo if your in Arizona for all your tuxedo and suit needs for any occasion from weddings to proms, parties and formals and black tie events. Always in stock and a tailor standing by to make it perfect the same day, come by and see us for your upcoming event. On a personal note Blue Tuxedos were popular in 1982 because I wore one for my High School prom tuxedo and I remember that clearly. Blue Tuxedos for Groomsmen or a Groom tux are popular now but that will change in the next few years and a Black classic grooms tuxedo will always be in style. You can't go wrong and where here to help you. 602 957-0089
Source 1 – https://www.gq.com/gallery/oscars-2017-blue-tuxedos-trend-red-carpet-academy-awards
Source 2 – https://blacklapel.com/thecompass/blue-tuxedo-black-tie-mens-tuxedos/
Source 3 – https://tuxedo.menswearhouse.com/navy-tuxedo-joseph-abboud-framed-notch-lapel-id-5302
Source 4 – http://www.josbank.com/tuxedo
Source 5 – https://www.fjackets.com/blog/top-5-blue-tuxedos-of-2016/