Winter weddings can be amazingly beautiful when you know what to wear and how to dress. Good dressing has a way of improving your confidence on your day. Dressing for a winter wedding can be quite challenging when you don't have any idea how to go about it. You need an outfit that offers you warmth and yet makes you feel elegant. And does your regular suit fill this need?
We've come up with ideas to help you look your best and feel comfortable for your winter wedding. Don't allow the weather to constrain your effort to look good.
Let's proceed!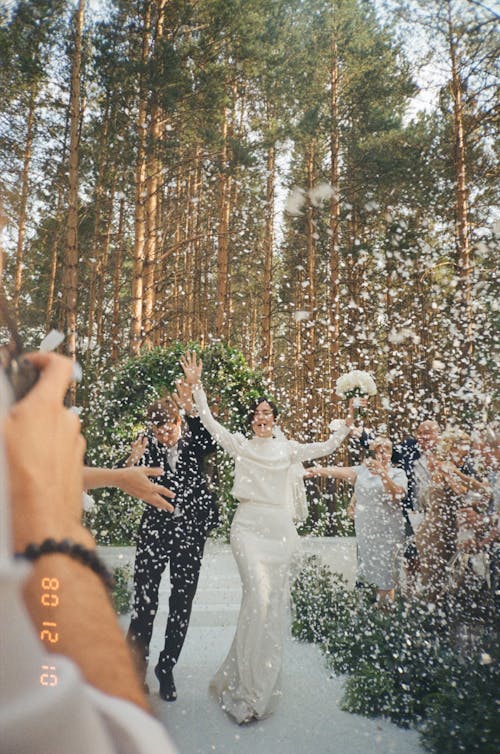 8 Formal Winter Rules You Should Know
Before we proceed, here are some rules that you should keep in mind when choosing your outfit for a winter wedding. 
Sagging will be a turnoff for suit pants and a jacket in the best fit.

Before picking your outfit, find out the theme of the wedding and the color of the day.

Accessorize your outfit with pocket squares, bow ties, jacket chains, and watches.

Choose colors that are not commonly worn for a different unique look. For example, burgundy, blue and tan.

Use the best pocket squares and vibrant ties to add colors to your look.

Make sure your shoes match your look.

Don't wear anything that makes you feel awkward. Make sure you're comfortable before you care about others.
How to Dress for Your Formal Winter Weddings
Let's list the top 12 ways to dress for your formal winter wedding
1. The contemporary style
Most men prefer this look for a winter wedding. This look is just elegant, but it also describes one's charisma. Navy, blue, and black are brilliant choices for the suit. Choose the shirt color according to the tie of your choice. People pay attention to your shoes, so choose a classy pair of leather shoes.
2. Winter look with sweaters
Dressing up in a cold climate is tricky. You need to choose between comfort and style. Well, you can get both when you wear a sweater and a formal suit underneath. It gives you a warm yet comfortable feel. You can use a plain turtle's neck or a classic sweater style in a plaid print.
3. White suit
Ditch your usual black traditional black look by choosing a different color. Consider a white monochrome look; you just need to be on a formal white shirt and jacket over black pants. A black bowtie and boutonniere are the perfect accessories. Dressing up in white as the best man will help the groom stand out in a colored formal suit.
4. Burgundy suit
The burgundy suit will not make you hit the stores for a new suit. Wear an old white shirt with this burgundy blazer over black pants for a unique look.
5. Gray and black
Gray and black usually look great on their own. They are natural colors. You can put the two together for a classy combination. Use a gray jacket and a round-neck black shirt to create a super classy yet formal look. And you always get to replace the bow tie with a black pocket square.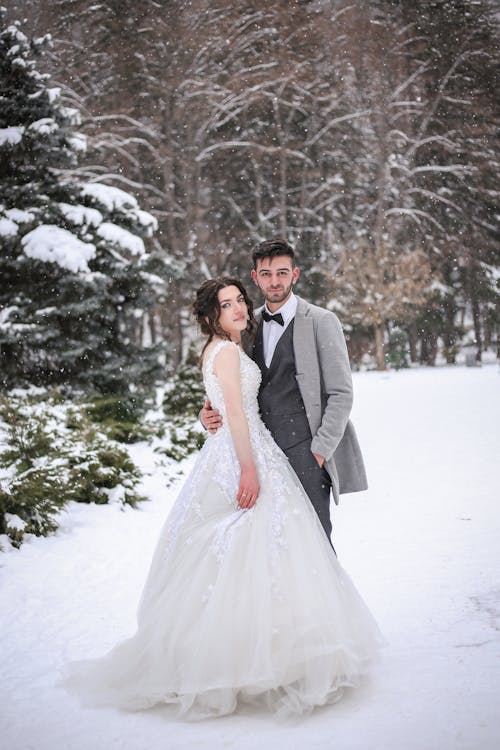 6. Tan accessories
Blue and white are a magnificent combination when it comes to suits for men. Blue is an alternative to the classic. When dressing up for a winter wedding, choosing the right accessories will make you look matchless. 
Tan is one great color that goes well with almost every outfit. Add your tan color accessories to this white and blue formal outfit. Put a tan belt around your waist, formal shoes, and a watch for an elegant look as a guest. Your belt and shoes should match to give it the best shot. 
7. Celebrity style
Go for a blue-gray color-plaid suit paired with a striped red tie for an elegant and trendy look. The pocket square should match your shirt and the stripes of your tie. You can add a sleek black haircut, to produce a celebrity look for your formal weddings.
8. Suspenders
If you are looking for the best kind of accessories to add to your formal look for your winter weddings, suspenders are what you need to make your outfit top-notch. With a well-fitted shirt, use a stunning gold cufflink, which seems to be the showstopper. Ensure you get a tailored-fit look to look best at a formal winter wedding. 
Go for a slim tie in red with the basic black and white matching suspenders. The suspenders will add a vintage and formal look under the suit jacket for a wedding guest.
9. Statement jacket
The statement blazer is just what you need if you're going for your closest friend's big day. The embossed fabric with hues of red and white gives an exceptional look. Add a bow tie and a watch to look classy. With this sleek and formal look, you will surely make a statement.
10. Washed-out white
These colored formal pants with a formal coat are better than anything else in the world. This combo is a very exclusive one because it's not popular among men. So, if you want to look exclusive, then you can wear this dress at the next winter wedding ceremony that you attend. 
Wear a pure inner color shirt. Add a pink or red colored handkerchief in the front pocket for an extra pop of color and add a burgundy-colored loafer with this outfit.
11. Formal Suit with Bow tie
This is the perfect outfit for your friend's or relative's wedding. This outfit keeps the color tones neutral and not too dark. You can wear a washed-out dull green-colored pants coat with a white shirt, then try adding a bunch of flowers on the left side of the collar to add extra elegance to your outfit.
12. Modern Cut
If the wedding is during the day when the sun is still shining bright, then consider a color that is light and looks attractive. You can use a gray suit over a formal white shirt with a pastel blue tie. For a neat formal look, go for a three-piece look by wearing a white vest underneath the suit jacket. You will look unique and also trendy.
How to Choose the Right Winter Formal Wear
The biggest challenge when it comes to choosing formal wear is the weather. Thankfully, we've got some tips on picking out an outfit suitable for winter.
Consider fabric types
When picking an outfit for winter, choose an outfit with thicker fabric made from nature, such as wool. Avoid a short sleeve and sleeveless outfit, unless you plan to wear a jacket on top.
Consider the outerwear
When you want to get a formal tux or semi-formal suit for your winter wedding. Choose a tux or suit made from wool. Suit & tux made from heavier textiles like flannel are elegant and give a warm feeling. As a guest, you can consider going for a velvet dress or suit in a rich hue season that will make a statement and also keep you warm.
Consider the right shoes to wear 
Wearing the right shoe is as important as wearing the right dress for a formal winter wedding. A winter wedding is a great excuse to break out your routine classic footwear—closed-toe, rounded and pointed pumps.
Go for boots; a classic or brown cap-toe is a pleasant choice. Don't be scared of rocking your dress with a boot. Polish your boot and let it be free of embellishments. You can also go for a simple plain toe, a clean dress Venetian shoe, or a stylish monk strap.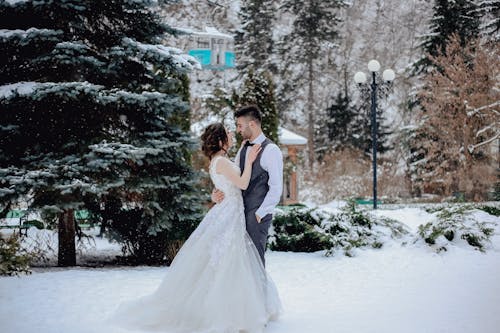 Meet the Experts
Get a well-customized formal suit for your winter weddings from the experts.
Rose tuxedo offers the best suits here in Phoenix. Get a tailored suit that fits perfectly for your winter weddings, parties, and other events from us at a very affordable price. You get your suit the same day you order it. We work all seven days. Reach out to us.