[fusion_builder_container type="flex" hundred_percent="no" equal_height_columns="no" menu_anchor="" hide_on_mobile="small-visibility,medium-visibility,large-visibility" class="" id="" background_color="" background_image="" background_position="center center" background_repeat="no-repeat" fade="no" background_parallax="none" parallax_speed="0.3″ video_mp4="" video_webm="" video_ogv="" video_url="" video_aspect_ratio="16:9″ video_loop="yes" video_mute="yes" overlay_color="" video_preview_image="" border_color="" border_style="solid" padding_top="" padding_bottom="" padding_left="" padding_right=""][fusion_builder_row][fusion_builder_column type="1_1″ layout="1_1″ background_position="left top" background_color="" border_color="" border_style="solid" border_position="all" spacing="yes" background_image="" background_repeat="no-repeat" padding_top="" padding_right="" padding_bottom="" padding_left="" margin_top="0px" margin_bottom="0px" class="" id="" animation_type="" animation_speed="0.3″ animation_direction="left" hide_on_mobile="small-visibility,medium-visibility,large-visibility" center_content="no" last="true" min_height="" hover_type="none" link="" border_sizes_top="" border_sizes_bottom="" border_sizes_left="" border_sizes_right="" first="true"][fusion_text]
At least two styles of go-to wedding suits should be kept in a well-stocked wardrobe: one for warm and colder months. When feeling frisky, a robust and warm fabric will make the ideal winter suit rental.
When in doubt, stick with black and gray, but if you want to add some color, try burgundy, hunter green, or brown. Additionally, feel free to experiment with texture.
The most fabulous Christmas Wedding suits for all tastes and price ranges are listed here:
BrooksGate Regent-Fit Striped Wool Twill Suit Jacket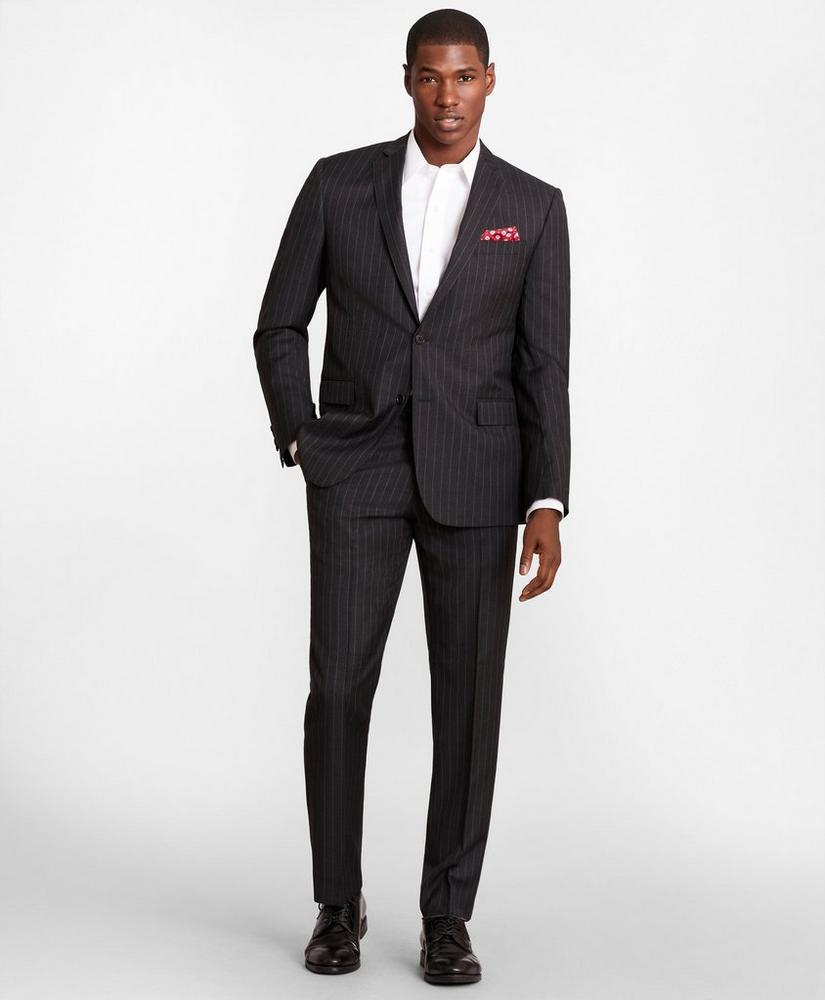 This suit rental features a delicate striped design that stands out without being overly bold and is constructed of 100% pure Italian wool.
Men's Black Shawl Slim Fit Dinner Suit from Hawes & Curtis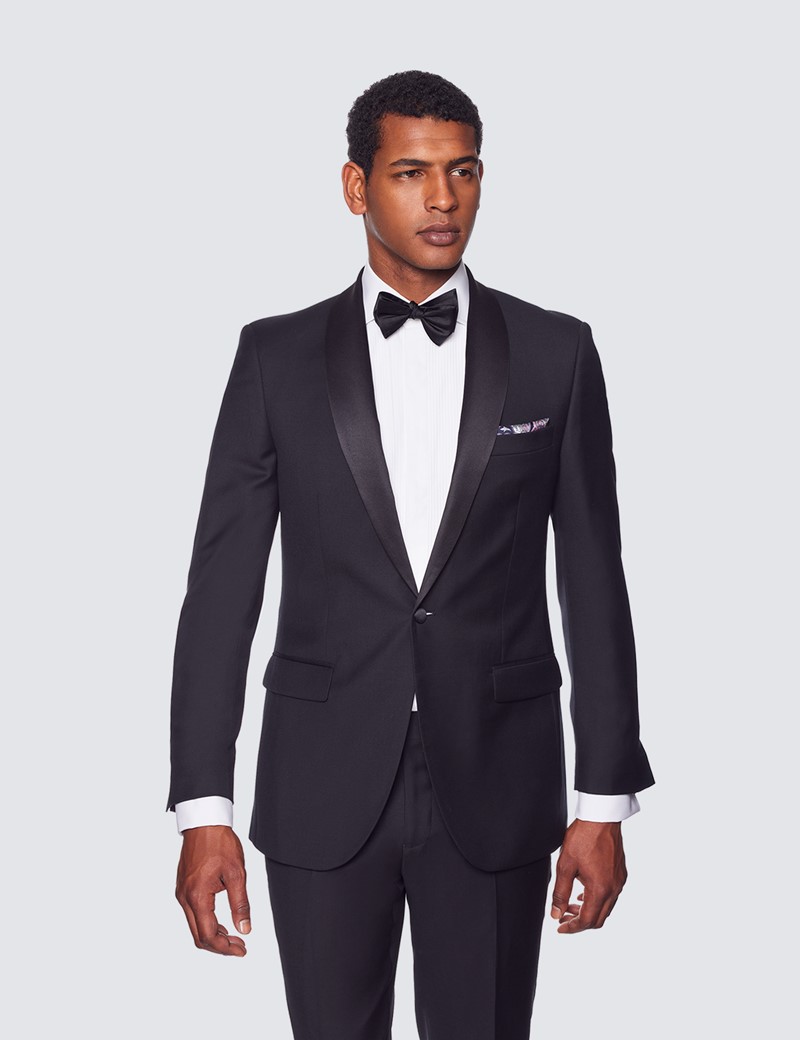 This black slim-fit suit is ideal for individuals who want a traditional option. It is reasonably priced, classic, and made entirely of wool.
The Brooks Brothers Madison Fit Three-Button Plaid 1818 Suit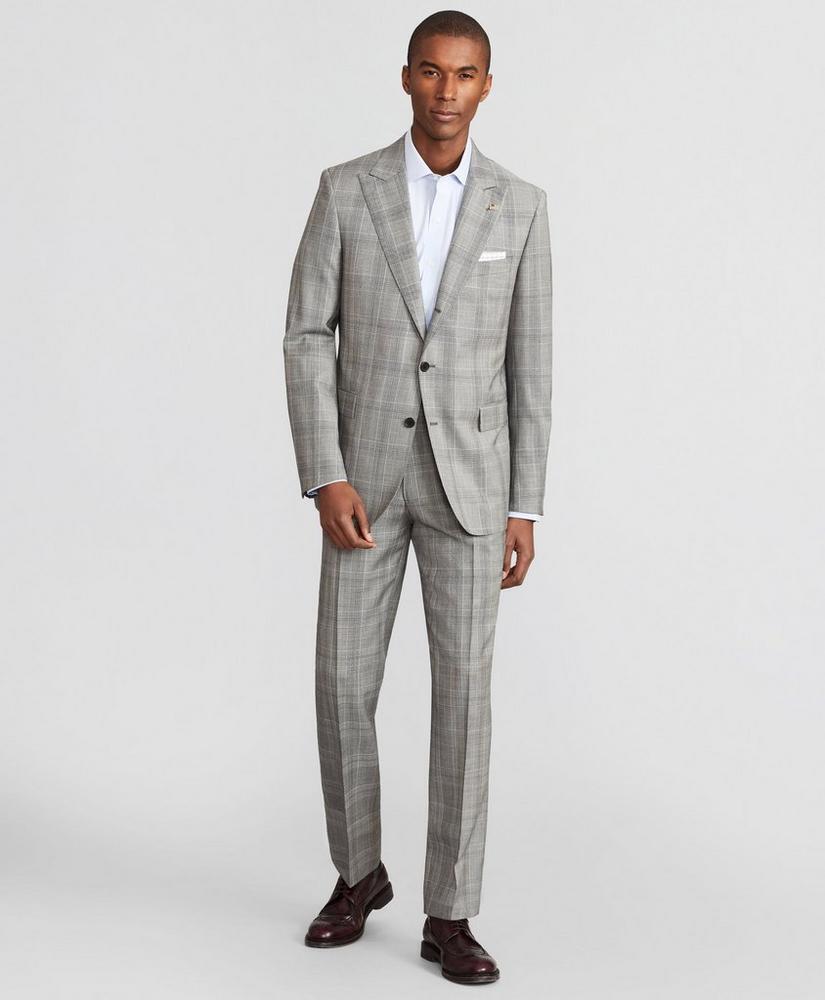 This suit is stunning and cozy because it is made of 100% fine Italian wool twill. Even though the checkered pattern is barely noticeable, a closer inspection reveals that this suit is anything but plain.
Topman Slim Black Velvet Suit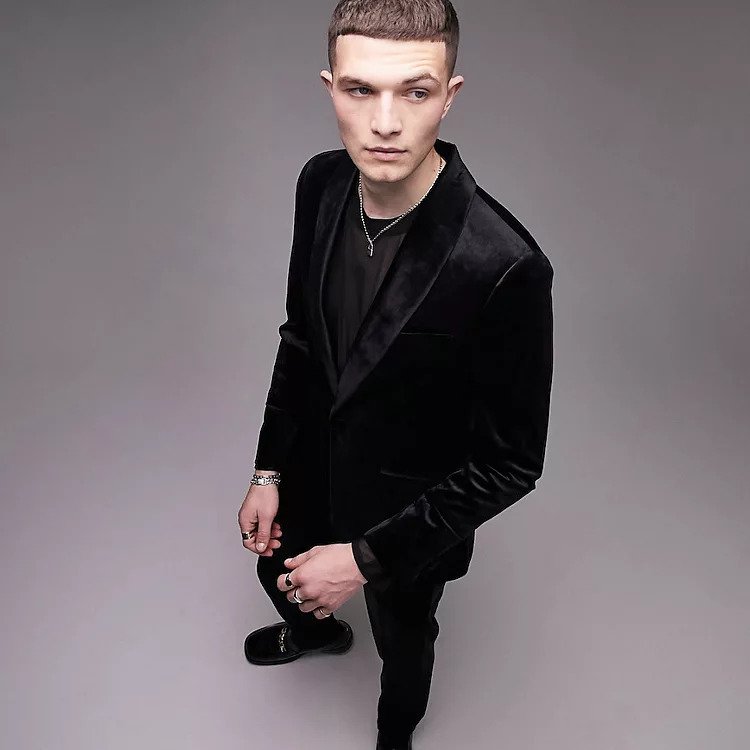 Although it makes a statement, a velvet suit fits well for a holiday wedding. This sleek-yet-edgy black velvet suit is ideal for the fashion-conscious groom, groomsman, or wedding guest.
The Kiton Men's Cashmere Pinstripe Suit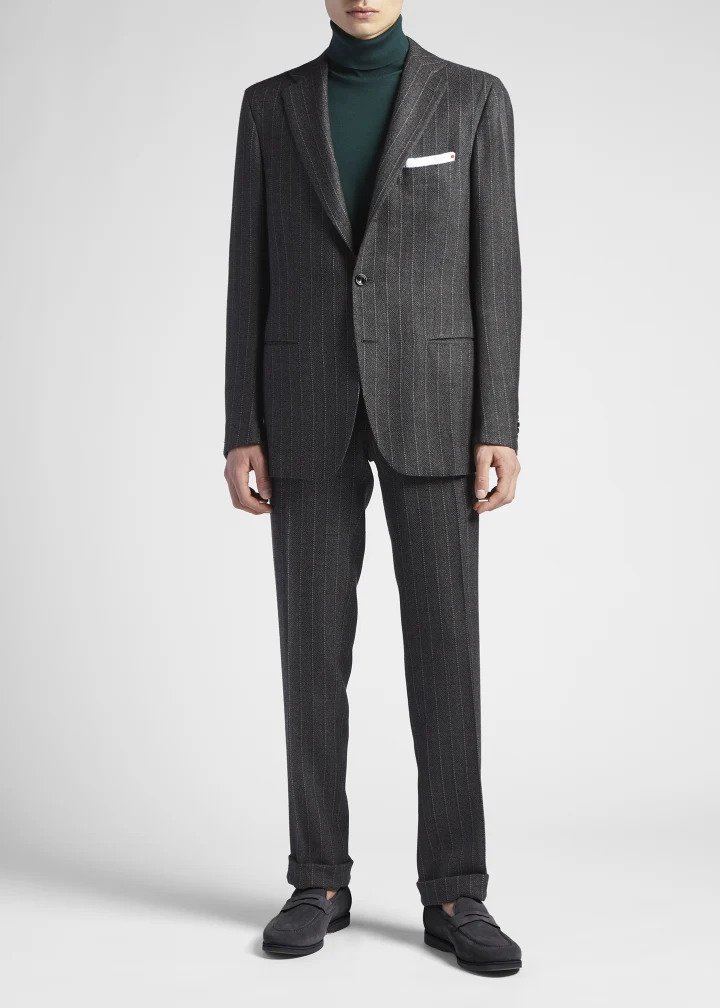 This magnificent suit is made of plush Italian cashmere. Its pinstripe design lends it a lot of versatility, and every detail is flawless.
The Hawes & Curtis Brown Tweed 1913 Collection Three Piece Slim Fit Suit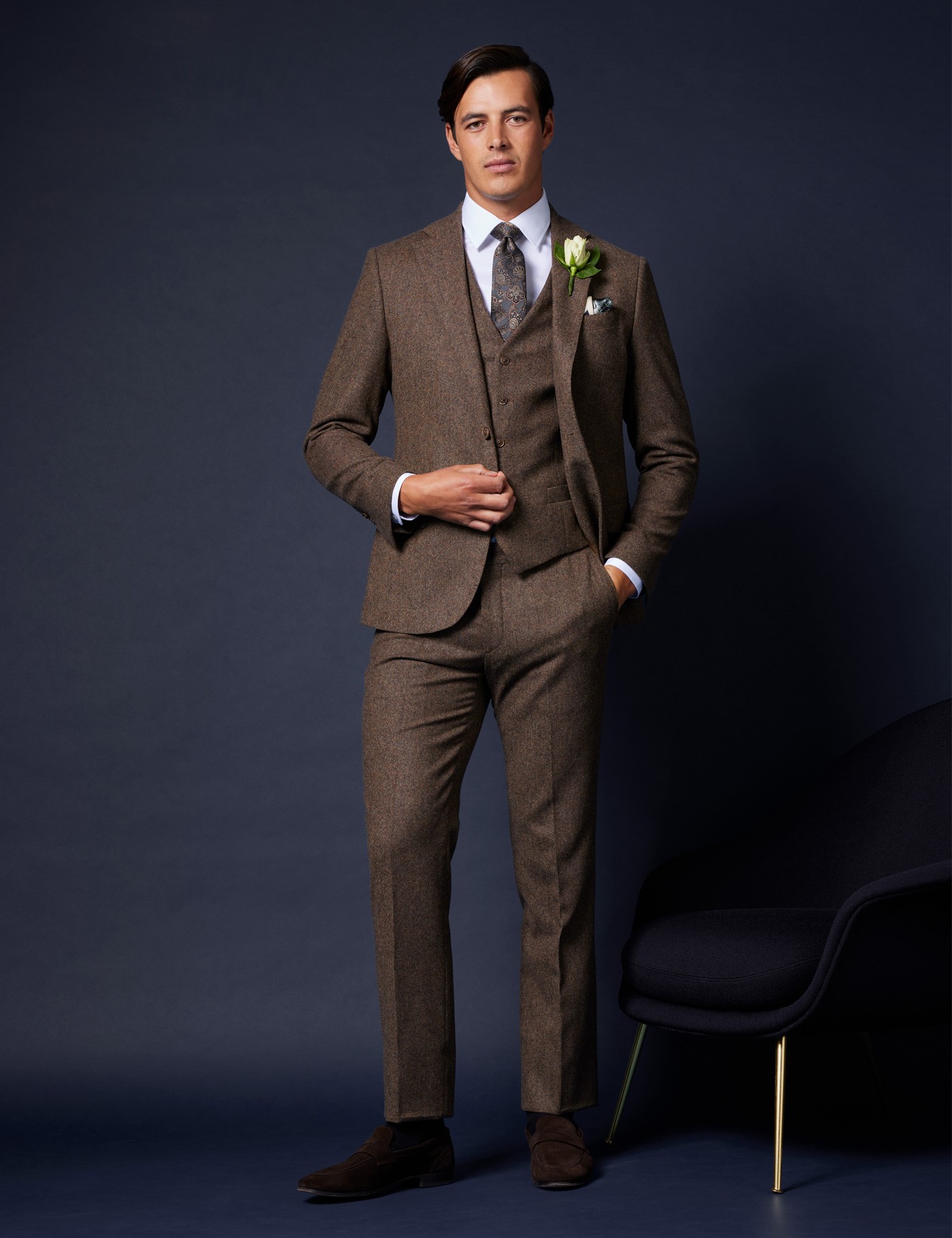 This tweed suit was primarily created with formal winter occasions in mind and is composed of 100% pure Lambswool. We adore the rich brown color.
Boss Genius Trim Fit Solid Wool Suit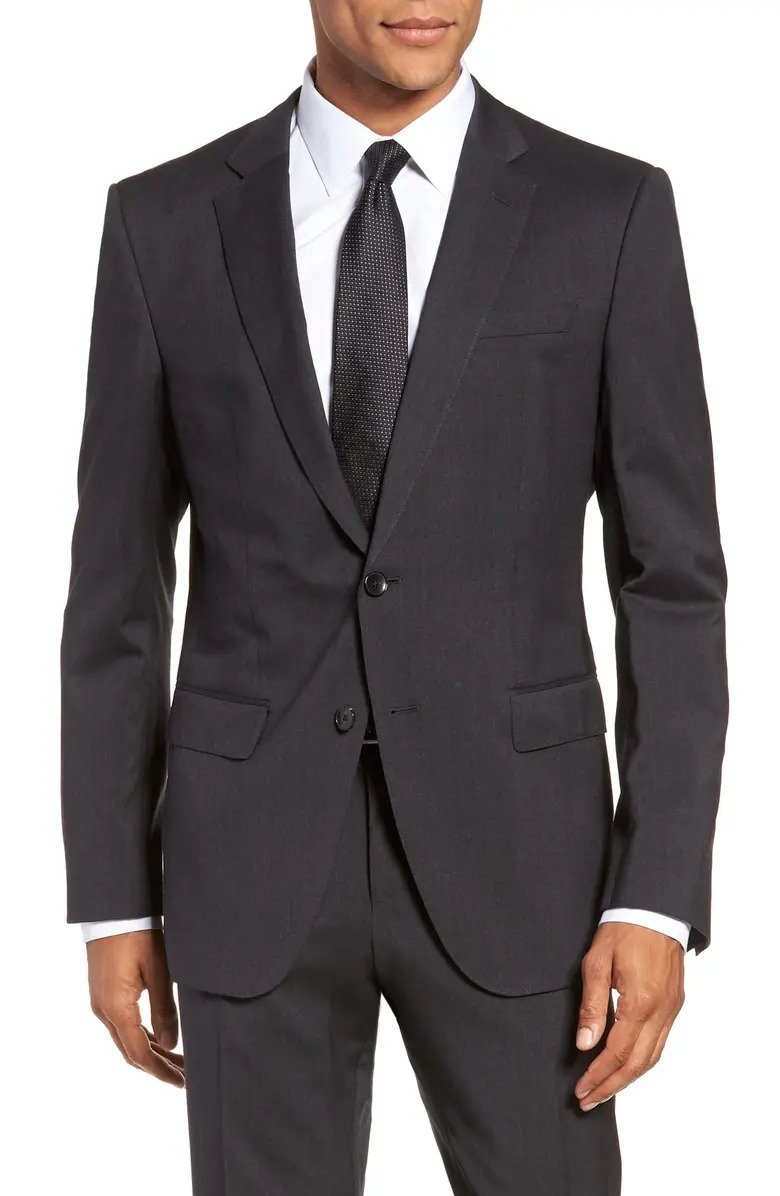 You will be satisfied with this Boss suit if you're searching for a primary, classic case in clear and minimalist color. Available in dark grey-black or navy, it is the perfect choice for any Christmas wedding.
The Indochino Hampton Tartan Navy Suit
This navy tuxedo rental is an attractive and unique choice if you're willing to forgo a suit. This one indeed has a Scottish flair thanks to the tartan pattern, wool, and cashmere blend material.
Ralph Lauren Purple Label Kent Pinstripe Cotton-Wool Twill Suit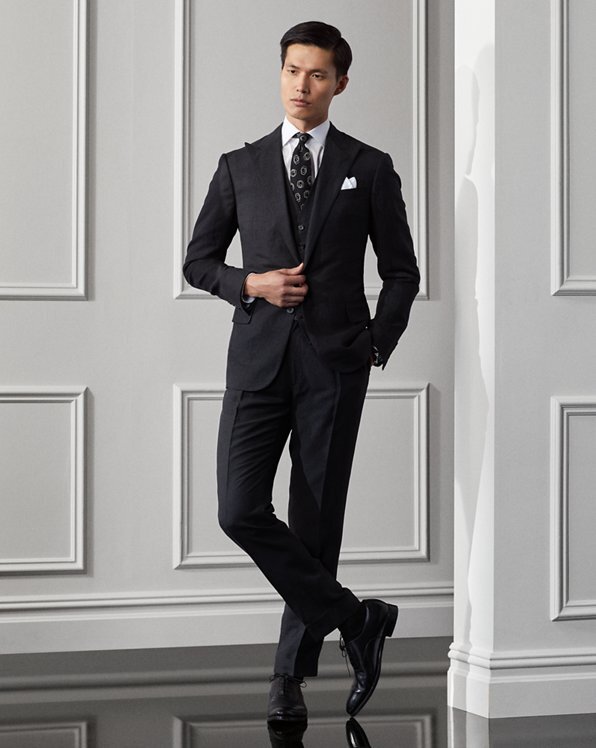 Indochino Harford Velvet Burgundy Tuxedo
Choose this burgundy Indochino tuxedo rental when you wish to be even bolder with your attire. It feels opulent, thanks to the black satin trim.
For chilly winter nights, a three-piece suit with an added vest is the ideal layering outfit. It has a sharp appearance, and the subdued pinstripes give it a more fashionable vibe.
Suits made of warm materials like velvet, cashmere, tweed, and wool twill are appropriate attire for winter weddings. If your fashion sense is outspoken and provocative, seek suits in surprising hues like emerald green or burgundy, or choose a striking pattern like houndstooth or pinstripes. And if you want a look with extra warmth, think about wearing a three-piece suit.
[/fusion_text][/fusion_builder_column][/fusion_builder_row][/fusion_builder_container]