Men's Wear house has reported that they are closing hundreds of locations. They want to close down their MW stores and just keep their Men's Wearhouse locations to handle the suits they sell and the tuxedo rental business. This can't be good for Prom students and wedding parties that rely on them for guest and others to be able to go to locations out of the state to rent a tux. See Men's Wearhouse news story below.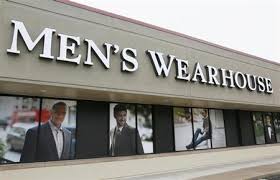 Shares of Tailored Brands, formerly known as Men's Wearhouse, jumped more than 11 percent in early trading Thursday, a day after the company announced plans to close roughly 250 stores this year. That includes shuttering 80 or 90 full-price Jos A. Bank stores.
The announcement followed worsening sales trends at that label in the fourth quarter, with the company adding that it expects weakness there to continue into 2016. Revenues at Jos. A. Bank have gotten whacked since the company ended its ubiquitous Buy One Get Three Free promotion in October."
Men's Wearhouse until last month, said it will close 80 to 90 Jos. A. Bank stores, as well as 58 outlet stores. What's more, it will shut 100 to 110 MW Tux locations, as it shifts its tuxedo rentals business to Men's Wearhouse stores and partner Macy's M -2.49% . No Men's Wearhouse stores will close given the strong performance of that chain.
As you can see this could be a scary time to rent your Prom tuxedo or wedding tuxedo from Men's Wearhouse. What happens if the store you register your wedding closes? Will they be able to handle your business at one of their other locations. I've seen lots of news shows on TV at night over 30 years in the Tuxedo rental business where a bride and groom went to get there Bridal Gown or Tuxedo's and even wedding halls and the business has closed.
I guess all you can do is be careful and ask them when you book your tuxedos or suit rentals if their location is one that is closing soon. Prom's and Wedding can be a stressful time getting everything ready and having a store close just before your pick up date would be no fun. I'm hopeful they would let all their customers know a head of time but then again you never know with big corporations and even small businesses.
Men's Wearhouse tuxedo rentals all come from their main plant from out of state so maybe they will just send you to one of their other locations to pick up your Prom tuxedo. This is another reason why you should try to use the local tuxedo specialist when you can, besides huge saving on your tux rental cost your local tux specialist usually carries their inventory in state with back up inventory to replace in case something does not fit right with your order. Every tuxedo shop makes mistakes on measurements sometimes, don't let them kid you, because it is not an exact art and lots of human error occurs. Local specialist have stock to deal with this. Try to rent a tuxedo from Men's Wearhouse a few days before the event and you will be blown away how much they will charge you for a rush order because the wedding tux comes from out of state. Have a look at some of Men's Wearhouse reviews sometime and you will see what I'm talking about. Besides all that they still are a good company and have great stuff just be cautious on your big day.
Rose Tuxedo is ready to help you if you have any problems at Men's Wearhouse of any other Tux shop. We carry all of our tux and suit rental stock in stock and have Arizona's largest selection of designer tuxedos and vest to choose from at tux rental prices so cheap you could rent 3 times before you would reach the rental fee of MW. Renting a tuxedo Anthem AZ only has a men's wearhouse near by but if you drive and extra 15 minute you will save big on you Prom tux or wedding tuxedo .