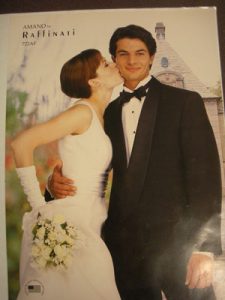 2015 is nearly here! Chances are, you didn't accomplish your New Year's resolutions. Whether they were too lofty of goals, or you just stopped trying there's no need to fret! This year is the year of change! With our help, you can become a better person just by wearing suits! Your New Year's Resolution should be to wear more suits , and we'll tell you how that can improve your life.*
Here's some reasons wearing a suit or tuxedo will improve your life in 2015!
Be more impressive to EVERYONE. Whether you're trying to impress your boss, mother, in-laws, girlfriend, or strangers, a well-fitted suit will make you look and feel better. Maybe you'll get that raise you've been wanting, or finally get the respectful handshake from your girlfriend's father. Wearing a suit can change the way others view you. More importantly, a suit can make you just feel so much better. When you look good, you feel good.
Be the talk of the parties! Show up to a New Year's party in a slick suit and tie and you may get to kiss your future wife when the ball drops! Forget the Christmas sweaters and goofy glasses. Dress to impress. This also works with suits at office parties, weddings, and more.
Land that new job! Wearing a suit to an interview can show you mean business! Renting a suit is even better! If you're not expected to wear a suit at the job, rent a suit to show them you have the ability to rock a suit and look amazing.
Kick those profile pictures up a knotch! Whether you're trying online dating or just like showing off on Facebook, Instagram, and Snapchat, improve your pictures ten-fold with a nice suit-selfie.
Opt for a tuxedo for the wedding! If you're getting married this year, splurge a little and get an actual tuxedo. You'll look amazing and no one will forget how wonderful you looked next to your beautiful bride.
Whatever you do this New Year (New Year's Eve/Day or any other time in 2015) be careful, and remember: Rose Tuxedo is here to make you look good! Our suits and tuxedos are the best around and our number one priority is to make our customers happy. Come rent a suit for the night or start upping your game by buying suits and suit pieces to make your wardrobe work harder for you! Keep up with our blogs or check out some posts from earlier this year for ideas on staying up with fashion and keeping the timeless look of suits and tuxedos alive!
*Rose Tuxedo is not fully responsible for your self-improvement, we're just here to help you look awesome.