Looking great is the first step to impressing your prom date. When you choose your prom tuxedo, you'll want to find something that is on trend and that suits you personally. Here are some of the year's big prom tuxedo trends to consider for yourself.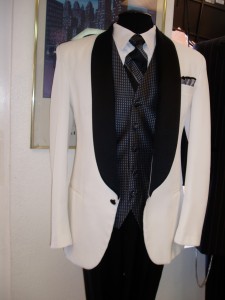 White and Black
Black and white are the traditional tuxedo colors, but this year's trend is to combine the two and let the white take charge. A white jacket with black lapels gives a sophisticated and cool look. Pair this with black tuxedo pants and you'll be a stand-out at your prom.
Long Line Coats
For the taller man, a five-button coat is a perfect look. This is the style that basketball players have been choosing for years and it is the go-to choice for this year's prom. The look is clean and modern, with just the right level of glamor.
Charcoal Grey
Take things a bit lighter than the traditional black with a charcoal grey tuxedo. This gives you a look that is a bit more refined than a regular suit, but a bit more relaxed than the standard tuxedo.
Individual Accents
Another trend for prom this year is to let yourself stand out from the crowd with individual accents. This has been a big celebrity trend and it's carrying over to prom styles. Whether it's a bright tie, a scarf, or unusual shoes, the key is letting your personality shine through.
Finding the right tuxedo for your prom is easy when you come to our three family-run Arizona tuxedo rental shop branches. Get in touch or come by today!