Society may make it seem as though a wedding is all about the bride when in truth it's about the groom as well. As the groom, there's a need to look your absolute best. Your bride is not complete without you, the wedding wouldn't even hold without you, you're equally important and a lot of attention is going to center on you and your sweetheart. You definitely want to look your best for all of that, don't you? These tips, if put into practice will complement your tuxedo or suit and bring out the best of your looks on your wedding day.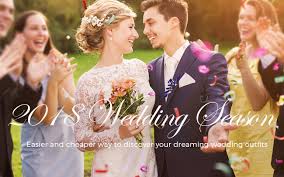 The formality of Your Wedding
Most couples take the formal route, preferring to have their big day in churches and dress just accordingly. Our couples, however, feel they want something less formal and traditional, they wish to be unique. So which couple are you? Once you've decided the level of formality your wedding will have the next is to decide the sort of clothes you'll wear to your wedding. You don't want to be underdressed, to your formal wedding, neither do you want to be overdressed to your less than a formal wedding.
The Clothes You Choose be a Perfect Fit
This isn't another party or some occasion you have to attend. You want to be careful with this one because it is your wedding! Whatever you do,  however, your dress will stick with you, you'll have your pictures to remind you. Make sure your clothing fits you perfectly, ensure it hugs onto your body frame in a snug and comfortable way. If your wedding is going to be formal, choose a tuxedo that'll bring out the best of your body shape – let it complement your look. An oversized or undersized tux should not be an option. Avoid that if you can.
Use Accessories that Complements Your Look
The good thing about tuxedos and suits is that they give you a chance to accessorize a great deal. Choose a wristwatch, cufflinks, and ties that say something about your personality. Are you going informal? This is your chance to get creative and amaze your guests a bit.
Your Tux should Match Your Bride
It's a really bad idea to dress in a fashion that clashes with your bride and her bridal train. Let your tuxedo or suit match with the bride. You can generally do this by wearing a tuxedo that's the same color as her gown. You can also achieve this by using suit whose Colo blends with her gown and bridal train. You're one with your sweetheart, don't start your marriage by disagreeing in the dress-related matters.
Do try to look your absolute best on your wedding day. It happens once and you don't want to mess up those pretty pictures at the end of the day. From all of us at Rase Tuxedo, we wish you a happy married life in advance!